Latest Entertainment New (Townflex) – Renowned hairstylist Chris Appleton, famously known for styling Kim Kardashian's iconic locks, has officially filed for divorce from his husband, actor Lukas Gage.
The documents, submitted to the court on Monday morning, cite the date of separation as Friday, November 10, and attribute the split to "irreconcilable differences."
Notably, Appleton revealed that the couple had a prenuptial agreement in place.
Sources close to the situation informed TMZ that the decision to end the marriage was a challenging one for Chris, who reportedly exhausted all efforts to salvage the relationship.
The insider added that Appleton ultimately prioritized his own well-being when making the difficult choice to file for divorce.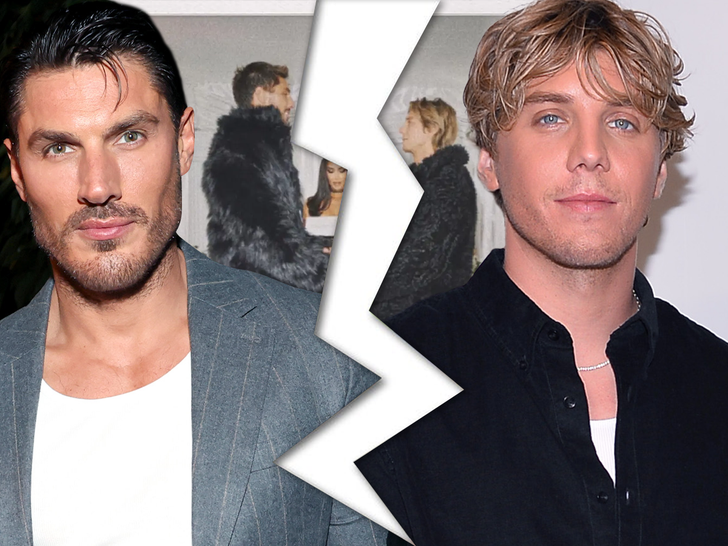 READ ALSO: Hollywood Mourns: "Euphoria" Producer Kevin Turen Passes Away at 44
The whirlwind romance between the 40-year-old hairstylist and the 28-year-old actor captured public attention when they tied the knot in a Las Vegas ceremony at the Little White Chapel in April.
Kim Kardashian and country music sensation Shania Twain played pivotal roles in orchestrating the impromptu wedding.
Their relationship unfolded at an astonishing pace, with the couple making their romance public in February during a romantic getaway to Mexico.
A few weeks later, Appleton and Gage announced their engagement, setting the stage for the spontaneous Vegas wedding that took place just months ago.
Visit our Latest Entertainment News Page for the latest updates on Showbiz, Celebrity Gossip